Our shipping and delivery process is tailored to your needs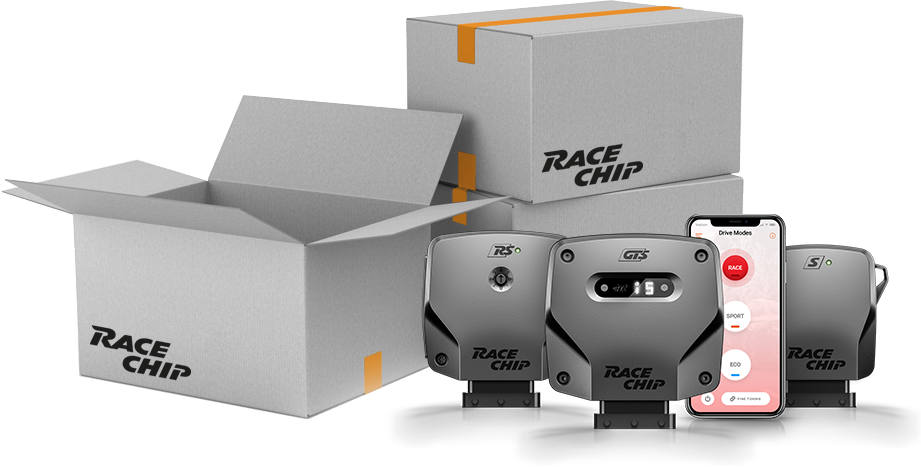 Free shipping
within the USA
Ready to ship
within 24 hours
Global express-
delivery available
30-day
returns
Shipping and delivery overview
How much is delivery? Do you offer free delivery?

We offer free delivery to customers located in the US. We charge up to $50 for shipping to other countries.

Does RaceChip deliver to my country? Where can I find a list of available countries?

You'll find a selection of the available countries at the start of the checkout process. We offer delivery to almost all countries. If you country is not listed, then simply contact our customer service and we will try to help you. We strongly believe everyone should be able to enjoy performance improvement from RaceChip.

Do I need to know anything about customs duties for foreign shipments?

US customers do not have to bear any costs for customs duties. In some instances, customs duties may need to be paid on delivery in countries outside the US. The amount of these fees varies from country to country.

Is my order insured in case it is lost or stolen?

Our parcels are insured in the amount of the invoiced value of goods.

How long will it take to receive my order?

If we receive your payment by 2:00 pm CET, we will dispatch your order within 24 hours. Delivery to the US usually takes 3-5 days.

Can I receive my order within 24 hours?

No. Currently this is not possible.

Can I choose between different courier services and delivery types?

No, we send all parcels with FedEx.

Where can I find my tracking number?

When we ship your parcel you'll automatically receive an email with the tracking number. If you did not receive this email, then you can request your tracking number from our customer service.

How can I check the status of my package?

Enter your tracking number at the respective courier partner's website (FedEx) and you can track the status of your parcel.

Can I see my order status in my customer account?

Yes. Please log into the customer portal on our website to see the order status of your package.

What do I do if my parcel was not delivered?

In This case you can contact our customer service. They will contact the courier partner and arrange for a new shipment.

How long does delivery take if I order multiple products?

Delivery is not affected by the order quantity. We have all of the products in stock and can send them on receipt of payment.

Who decides if I receive multiple shipments?

We only recommend multiple shipments if a product you ordered is not currently in stock. This way, we make sure that you get all of the products we have in stock as quickly as possible.

Can I choose not to have multiple shipments?

Yes. You can decline the use of multiple shipments with your order. We will be happy to ship your order as one shipment upon request.
Do you have further questions regarding shipment? You'll find more answers
HERE
Returns & Exchanges - how it works
Step 1

Option 1: In the customer portal (LOGIN) under "My Orders" click on "Return" next to the order. The return slip can then be downloaded.

Option 2: Write an e-mail to [email protected] or use our contact form.

Step 2

Fill out the return slip. Include the return slip within your return package.

Step 3

Pack the product well (ideally in the original packaging) and send it to us.

Step 4

We inspect the product for completeness and condition as soon as we receive your returned product.

Within a few days you'll receive the new product (exchanges) or a refund (return) from us.
Other questions regarding returns and exchanges
Do I have to pay the return postage for returns or exchanges?

If there are technical problems with your RaceChip that require it to be returned and the fault is ours, we will pay for the shipping costs.

Who pays the costs if I return an item?

This depends on the reason the product is returned. If the return is due to a technical problem with your supplementary control unit that was our fault, then of course we will pay for the return shipping costs.

What is the return process at RaceChip?

For returns, check with our customer service first to review return shipment options.

Can I return a product if I'm not satisfied?

Yes, you have a 30-day trial period with your order.

How can I cancel my order?

Please contact our customer service by email or phone to cancel your order. This will ensure immediate cancellation.

If you have a customer account with RaceChip, you can cancel your order via the customer portal.

When does the 30-day trial period begin?

The trial period begins when you receive your order.

How long after I make my return will I receive a refund?

The statutory deadline for refunds is 30 days after receipt of the returned item. However, we usually process refunds within one week.

I ordered the wrong product. Can I exchange it?

Of course. Please contact our customer service within the trial period, namely 30 days after receiving your order.

My product is not in perfect condition. How do I exchange it?

If this happens, please contact our customer service. They will help you exchange the product..

Alternatively, you can also exchange the product via your Racechip customer account if you had one at the time you placed the order.
Still have questions about returns and exchanges? Find an answer
HERE
.